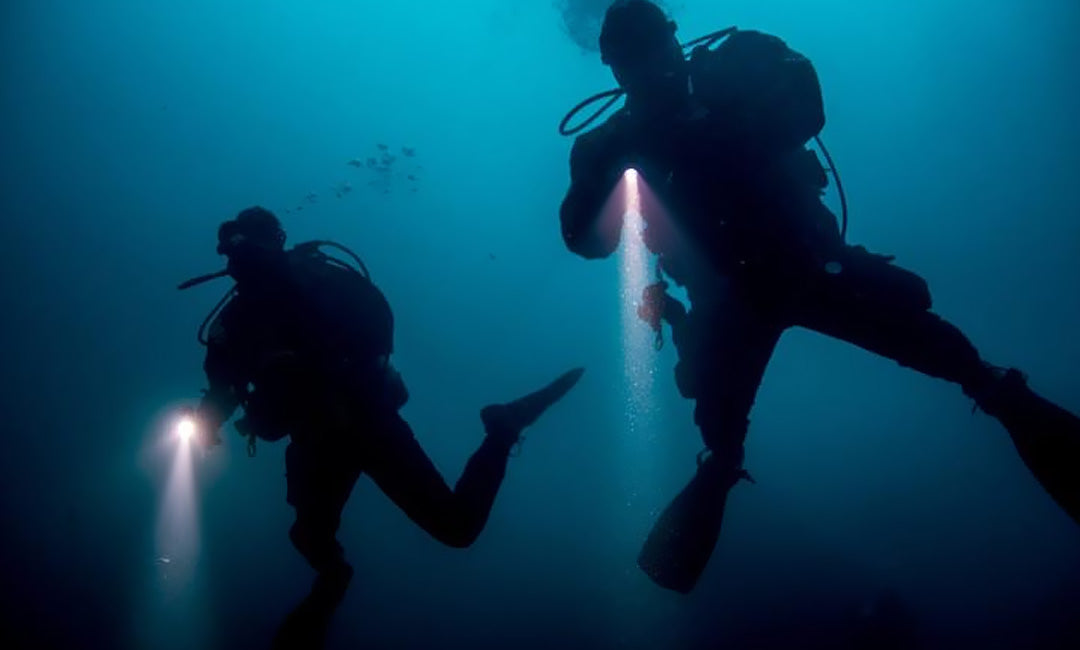 What to Look for When Buying Scuba Diving Lights
SOME PARTS OF THE OCEAN CAN BE AS DARK AND DESOLATE AS SPACE, WHICH IS WHY YOU NEED SCUBA DIVING LIGHTS TO GIVE YOU SOME EXTRA VISIBILITY. CLICK HERE TO LEARN ABOUT WHAT TO LOOK FOR WHEN SHOPPING FOR A DIVE LIGHT.
Keyword(s): scuba diving lights
Getting ready to buy some new scuba diving gear?
Wondering how to choose the best scuba diving light?
Scuba diving lights are an important piece of gear that is are essential for divingnot only for diving at night, but also for better seeing coral under ledges, when there is more limited visibility, when you just want some more color, etc. in dark areas. The right scuba diving lights can help your dive to be both easier and safer. However, if you've never bought them before you may not be sure what to look for.
Luckily, we're here to help. Below we'll tell you everything you need to know about buying scuba diving lights.
1. Know Your Plan of Use
Before you buy any diving lights, you need to think long and hard about what your preferred diving style is and how you will be using the lights. Only you know what your needs will be and what kind of exploration you'll be doing. So consider the options carefully based on your own diving needs.
You should consider whether you'll be using the lights in the daytime or nighttime. If you're going for a night dive, your needs may be a bit different than someone diving who is doing all of their diving during the day. A smaller handheld flashlight is often good for the daytime, while a lantern-stylemore powerful 1000+ lumen light is often ideal for the night.
Also, if you plan on exploring any caverns or you plan on doing some underwater photography, you'll want a light that works for your specific needs as well. Typically these lights have a wider beam. Regular dive lights have a beam that is typically 12 degrees to 20 degrees. Video lights have a beam that is wider at 100+ degrees. The wider beam allows them to light things that are closer very well. Conversely, a narrower beam of a normal light allows you to see further away.
2. Type of Lighting Technology
You'll also want to think about what type of light you'll want to buy. Lighting types typically include tungsten, halogen, LED, and HID lights.
LED and HID lighting is typically preferred by divers these days and will provide more power and light than tungsten or halogen lights. While LED and HID lights will be a bit more expensive, they're often worth it for many divers. They'll use less power while also providing more light and functionalityis the right choice for almost all recreational diving today. It offers a very powerful beam while also utilizing very little battery energy..
3. Consider the Battery Type
You also need to consider what type of battery you want to use with your scuba diving light. Some lights will require the use of traditional alkaline batteries such as AAA batteries. Others will use CR123 lithium batteries to power the lights.
Both of these types of batteries can be a bit of a headache to keep up with. Many, however. Most scuba divers will probably want to opt for internal rechargeable batteries instead. This will provide the most convenience and will be very cost-effective, especially for more frequent divers. Tovatec Fusion lights offer the best of both worlds as they come with included rechargeamble batteries, but also accept traditional alkaline batteries. This is especially useful when traveling on airlines where rechargeable lithium batteries may not be allowed.
4. Look for Scuba Diving Lights That Can Handle the Job
Before you buy a dive light, you need to ensure that it will be able to perform under pressure. Simple waterproof lights won't be enough for your needs. You need to buy lights that will be able to handle complete submersion.
Make sure to look for lights to buy that guarantee that they are pressure-proof or water-tight. Ensure that the lights are meant for serious divers and won't go out on you while you're in the middle of a dive. Today, there are many cheap lights available on Amazon and Jet.com They do not include a warranty. They have not been designed to dive. And the last thing you want is for something to fail while you are diving.
Final Thoughts
Choosing the right scuba diving lights is essential for having a great dive. By considering the tips above, you'll have a great chance of making the right choice and having the gear that is just right for your needs.
Ready to buy some dive lights? Check out our selection now and find the lights that you need for your next dive.
---