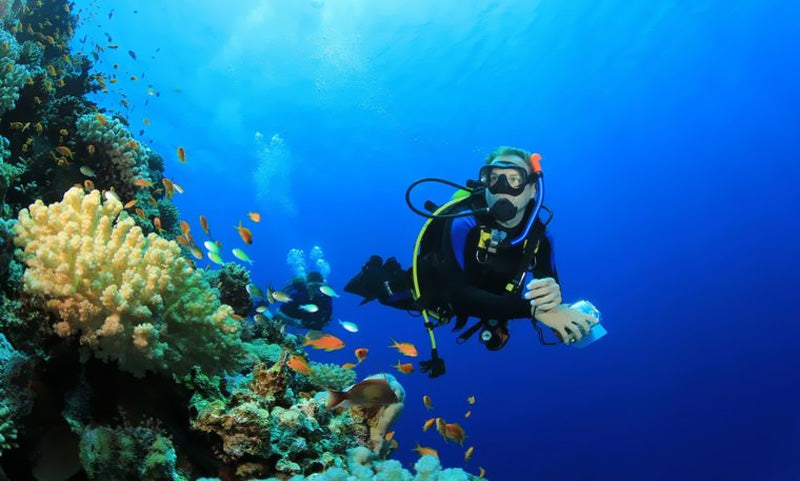 The 3 Most Magnificent Scuba Diving Spots In the World
Though they cover most of our planet, much of our oceans still remain unexplored. But from what we have ventured into, these are the 3 best scuba diving spots in the world.
The first example of underwater breathing dates back to 500BC when a Greek soldier dived and breathed air from the surface using a hollow reed. It wasn't until Jacques Cousteau and Emilie Gagnan created the modern scuba diving system in the 1940s that diving took off.
Now, this popular sport means that we can explore some of the planets most amazing underwater locations.
Though they cover most of our planet, much of our oceans still remain unexplored. Of the many places that have been discovered here are 3 of the best scuba diving spots in the world.
What Makes the Best Scuba Diving?
Choosing the best scuba diving in the world is an impossible task. It's a subjective judgment. All divers have preferences for different types of diving.
Some divers prefer exploring wrecks and others prefer natural caverns. The attractions of sea life in all its forms excite some and spectacular underwater scenery does it for others. In selecting the 3 best places to scuba dive, this list covers a mix of delights.
1. The Yongala, Australia
The S.S. Yongala is an Australian dive for those who love a shipwreck. It's off the Queensland, Australia coast. The ship sank in 1911 and along with 122 people the shipwreck took down a racehorse and a Lincoln Red Bull.
You might incorporate a visit to the Yongala as part of a longer visit to the Great Barrier Reef. With over 1,400 miles of reef to explore there's something for everyone. The Yongola, however, is for experienced divers only.
With a 109-meter hull, the wreck provides an excellent habitat for a wide range of sea life. Bull sharks, tiger sharks, and manta rays are among the spectacular sights. There are also octopus, turtles, schools of fish and fantastic coral.
The Historic Shipwrecks Act gave the Yongala official protection in 1981. Entry inside the ship is not permitted but there is plenty to see from the outside. The site is accessed from Ayr Township.
2. Blue Corner Wall, Micronesia
In the Micronesian islands is the tiny republic of Palau. Palau created the first ever shark sanctuary. This is a dive for the experienced diver only as there are strong currents and it's a challenging dive. The rewards for your training and expertise are huge.
This wall dive offers a fabulous opportunity to see sharks as well as a diverse range of other marine life. Barracuda, rays, snappers, and wrasse are plentiful. Get some great photographs.
The wall itself is a rich environment for coral. There are also sea slugs, morays, and mantis shrimps.
3. Barracuda Point, Malaysia
If you love to see sharks and barracuda then Barracuda Point is for you. This diving location is certain to provide spectacular views of big predators. Watch them cruise by an abundance of other marine life.
The diverse range of other marine life includes turtles and buffalo fish. Also look out for coconut crab and bump head parrotfish. They just confirm this as one of the best places to scuba dive in the world.
There are strong currents from time to time. They occasionally sweep across the underwater landscape. There is an 800-meter drop-off.
Your Favorite
Your list of the best scuba diving locations may not include these three sites. If you prefer some other locations then that's fine. You must have had some spectacular dives.
If you've not visited these three locations, pack your bags for a trip. You have some diving to do. To talk about diving and especially equipment, click here.
---